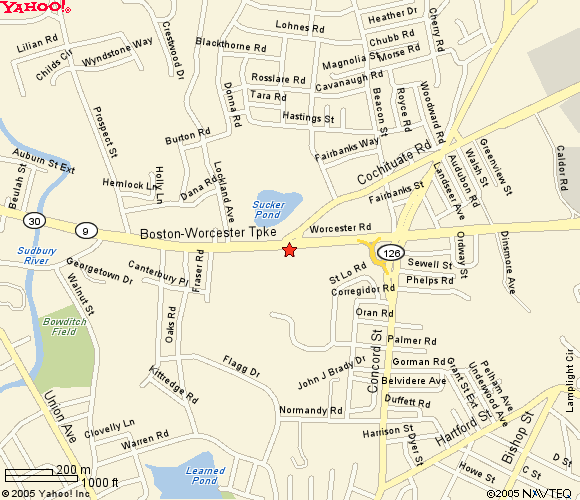 Directions
1. Start at 280 WEST ST, ROCKY HILL - go 1.1 mi
2. Turn Left onto I-91 NORTH toward HARTFORD - go 7.8 mi
3. Take exit #29 onto US-5 NORTH toward EAST HARTFORD - go 0.5 mi
4. US-5 NORTH becomes CT-15 NORTH - go 1.6 mi
5. Merge onto I-84 EAST - go 40.7 mi
6. Take the I-90 EAST exit toward N.H. - MAINE/BOSTON - go 32.9 mi
7. Take exit #12/RT-9 onto WORCESTER RD[RT-9] toward FRAMINGHAM - go 3.9 mi
8. Arrive at 400 WORCESTER RD, FRAMINGHAM, on the RIGHT
9. LOCATION NOTES: MEMA is located in an underground bunker, so there is no visible building per se.
As you come eastbound on Route 9, you will pass MSP barracks and Headquarters on the right,
immediately followed by another driveway for MEMA.
Park in the lot; there is an access shelter for entrance to the bunker.